The Apple computer is still one of the most secure system around but the humble pop up is making its way to the system in ever increasing ways via your web browser. The pop ups in themselves don't harm you but your reaction can. If you have the option to click any button apart from "OK" or "Continue" then do so. What the scammers want is for you to continue and agree to there terms and condition, this maybe in the form of downloading software, going to another website for you to enter payments or calling a phone number to speak with a technician who can fix the problem you seem to have. Some are even wording the text in a way that you think your contacting Apple for help, Apple will never ask you to call a number from a pop up window.
If any website suddenly displays a pop up saying you need to install flash or java make sure the site is trustworthy before you do so, then don't use the link provided go to flash or java yourself and download it from them directly. Don't use a supplied link from a webpage if your unsure.
Some examples of known pop up are below, if your ever in this position, try and close the message or the browser window, if it no longer lets you close the window try and quit the browser from the menu bar or use "command Q" to quit. If that is also not working you may need to force quit the browser, from the Apple menu you will see the force quit menu option.
Another tip is if you restart Safari and it's going directly back to the same page or pop up, you can "safe boot" Safari by holding down the Shift key as you launch this will then ignore the last page Safari visited.
If you are past that stage and you can't set rid of the message, call us.
Below are some examples of the FAKE messages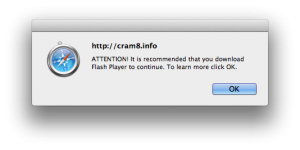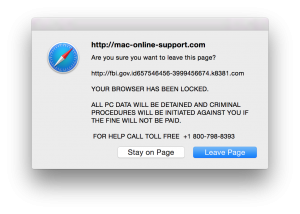 Now Safari will some times detect a Phishing site, and here is how the REAL warning looks like, as you can see there is no telephone number to call: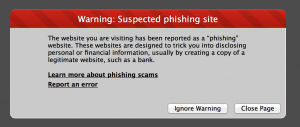 Ray Allen
Apple Certified Technician
Alary Technologies